Indonesia -an island country located between Southeast Asia and Oceania , and comprising 17,508 islands , with a population of more than 255 million people -which makes it the fourth most populous country in the world- is already known to Egatel, since we have been developing projects in that country for more than 15 years, first supplying analog transmission equipment of up to 5KW, and subsequently collaborating in the deployment of its DVB-T/T2 Digital Television networks with transmission equipment of up to 300W in different cities and locations on the islands of Sumatra and Java.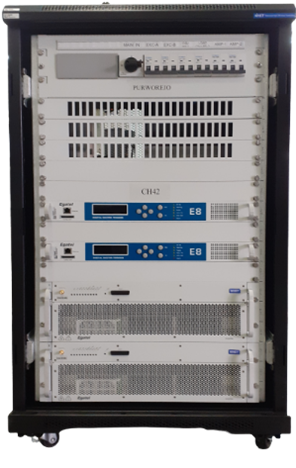 This contract for the supply of Doherty 1.2KW TUWH4602E DD transmitters in DVB-T2 will allow DTV deployment to be extended to some of the main cities on the Island of Java. In this way, the channels and broadcasts of RCTI, MNCTV, CTV or iNews can be seen by users thanks to Egatel equipment.
The new high efficiency TUWH4000E series represents a step forward in high power UHF air-cooled transmitter technology. The series employs asymmetric ultra-wideband Doherty technology , covering 470 to 700 MHz with a single amplifier model. Therefore, no modifications to the amplifiers are required when the operator needs to change the RF channel within this UHF band. TUWH4000E transmitters feature market-leading energy efficiency, offering up to 45% efficiency and providing broadcasters with high economic benefit. The extremely compact, customer-oriented design provides full flexibility and multiple configurations per rack, saving a lot of space at the transmitter site. The quick and easy commissioning of the transmitter and the power of the web server ensure quick commissioning and easy operation. Different redundancy options and optimal design of critical modules guarantee continuity of service throughout the life of the transmitter.